Welcome to RV UNIVERSITY

RV 101&reg
RV University opens the doors to your RV Education!
~Learning RV's the Easy Way~
Brought to you by RV Education 101&reg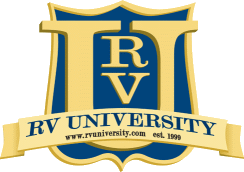 Hi, we are Mark & Dawn Polk, owners of
RV Education 101&reg. We are the premier provider of educational videos, books and RV information for the RVing public. RV Education 101® was founded over a decade ago by Mark Polk, who started in the RV industry as a teenaged apprentice technician. "I really enjoyed working around RVs and performing basic service on customers' units", Polk explained. "You could say I was bit by the RV bug early on."
RV Education 101 quickly established themselves as THE go to resource for RVers. With hundreds of thousands of training and informational DVDs and books sold, along with his many TV appearances as the RV Savvy Guy, Mark Polk is recognized as THE authority for everything RV.
We felt that there is not enough emphasis placed on properly educating the RV consumer on the complexities of owning and operating an RV. Our goal is to provide you with as much RV information, tips and safety advice as possible. Topics covered include: RV walk through orientation videos, RV winterizing & storing, trailer towing and towing behind your motorhome, and much more! Check out our training Videos/DVDs, books & e-books on using and maintaining your Recreation Vehicle (RV).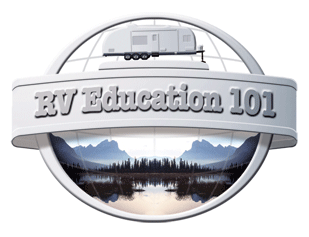 'Education is knowing where to go to find out what you need to know; and its knowing how to use the information you get.'
~William Feather US Author
RV Video Tips




PLAY & LEARN
RV Crossword Puzzles

RV SAVVY?

RV EDUCATED?

TAKE THE QUIZ & SEE

Read Mark's

RV Articles

RV Education 101

E-book Library

Get Your U of RV
Certificate of completion

Visit the RV Education 101

DVD Library

Sign up for your FREE

RV Education 101

E-Newsletter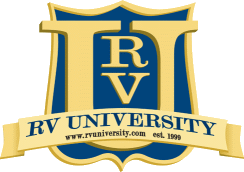 RV 101&reg
RV Single DVD Titles in our Library
An Introduction to RV's
Drive Your Motorhome Like a Pro
Tow your 5th Wheel Trailer Like a Pro
RV Awning Use, Care and Accessories
RV Safety Features, Tips and Tricks
Travel Trailer 101
Class A Motor Home 101
Class C Rental / Owner
Winterizing & Storing your RV
Motorhome Towing
Marks Recommended 10 minute RV Essential Items
Deep Cycle Battery Care & Maintenance for RV's and Boats
RV Care and Maintenance
Money Saving DVD Sets Available

Travel Trailer Training DVD Sets
5th Wheel Training Videos
Class A Training DVD Sets
Class C Training DVD Sets
---
15 RV Instant Download E-Book Titles in our Library
The Original Checklists for RVers
Winterizing and Storing your RV
THE RV BOOK now available as an ebook
The Three Primary Systems of an RV
Insider's Guide to Buying an RV
RV Buyers Survival Guide
Trailer Towing, Weights, Hitch Work & Backing
A Collection of RV Tips
Pop-Up Basics 101
Dinghy Towing
Deep Cycle Battery Care and Maintenance
RV Awning Use and Care
RV Safety Features, Tips and Tricks
RV Care and Maintenance
RV Campground Basics
---
Explorer RV Insurance:
Your RV insurance can and should fit your RV.
To get a free RV insurance quote with absolutely
no obligation from Explorer RV Insurance Agency, Inc.
call 1-888-774-6778.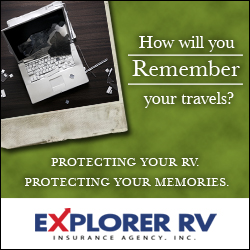 Tired of dead batteries?
Stop the problem for good with the charger,
maintainer & conditioner that Mark uses on all his batteries:
The Battery Minder
Need a sway control hitch?
Learn More about the Equal-i-zer&reg
The Original Equal-i-zer Sway control hitch has been enjoyed by thousands of trailer owners for over 50 years. Learn more about the Equal-i-zer hitch,
and find which hitch will work best for you